Labtech's Modular 36mm Twin Screw Extruder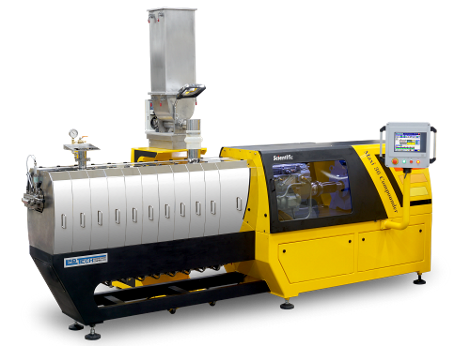 Complementing the existing range, Labtech has now designed a new 36mm co-rotating twin screw extruder for heavy duty compound production. Following customer demand for a larger machine, the standard 36mm option can give outputs of 150-200 kg/h using a medium to high density compound. Alternatively it can be upgraded to the Maxi36Compounder which is equipped with a 90kW induction motor or water cooled motor drive. This gives a maximum RPM of 1200 and increases the output to 200-250kg/h.
The entire barrel on this machine is covered with modular high polished stainless steel panels for ease of cleaning. Each module can be removed individually to allow fast access to the barrel and to mount additional top or side feeders.
The modular sectional barrel has thick barrel lining inserts made from very high wear resistant PM-HIP steel which enables compounding of very abrasive materials. High corrosion resistant versions are also available for the processing of Fluor plastics and other resin types which develop aggressive acids during processing.
The screws are built up from individual element mounted on the splined hardened shafts. Several screw configurations are possible due to the variety of feeding and kneading elements available.
Downstream equipment has also been designed to complement the larger extruder.
The LW-300 3 metre long water bath can process up to 24 strands and output 400kg/hr.
The LZ-200 strand pelletizer has a speed range up to 1000 RPM, strand feeder speed between 20-80 m/min.
The LCL-80 classifier ensures all long, oversized particles and dust are efficiently removed and only perfect pellets drop into the container. The oversized particles are discharged separately and can be recycled.